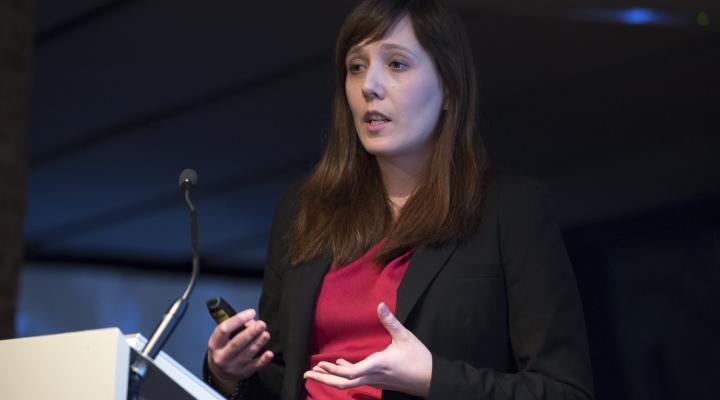 Vanguardia Science Award
This award, inspired by the example of the magazine Science, which names a 'Breakthrough of the Year' every December, honours and awards the most important scientific breakthrough of the year in Spain. 
An initiative of the Foundation and La Vanguardia newspaper to bring visibility to outstanding research
2022 Editon
1st prize
Neus Martínez i Pilar Navarro, IMIM-Hospital del Mar, IIBB-CSIC
Early detection of pancreatic cancer
2nd prize
Inés Marín, IRB Barcelona 
Senescent cells activate the immune system.
3st prize
Cátia Monteiro, CNIO 
Improving radiotherapy for brain tumors.
2021 Edition
1st prize
2nd prize
3st prize
2019 Edition
1st prize
Ángel Montero Carcaboso (Hospital Sant Joan de Déu)
2nd prize
3rd prize
María Llorens-Martín (Centro de Biología Molecular Severo Ochoa (CSIC-UAM))
2018 edition
1st prize
Manel Juan (Hospital Clínic)
Aleix Prat (Hospital Clínic / Idibaps)
2nd prize
Raúl Méndez (IRB)
José J. Lucas (Center for Molecular Biology Severo Ochoa)
3rd prize
Aitor Mugarza (ICN2)
César Moreno (ICN2)
2017 edition
1st prize
José Luis Ortiz (IAA-CSIC)
2nd prize
Hugues de Riedmatten (ICFO)
3rd prize
Marc Claret (Idibaps)
Antonio Zorzano (IRB)
2016 edition
1st prize
Pura Muñoz-Cánoves (UPF)
Laura García-Prat (UPF)
2nd prize
Pere Santamaria (Idibaps)
3rd prize
Salvador Aznar-Benitah (IRB)
Gloria Pascual (IRB)
2015 edition
1st prize
2nd prize
Clara Soria (University of Oviedo)
Fernando G. Osorio (University of Oviedo)
3rd prize
2014 edition
1st prize
2nd prize
3rd prize
2013 edition
1st prize
Manel Esteller (IDIBELL / Icrea)
2nd prize
Pia Cosma (CRG / ICREA)
Daniela Sanges (CRG / Icrea)
3rd prize
Manuel Serrano (CNIO)
María Abad (CNIO)