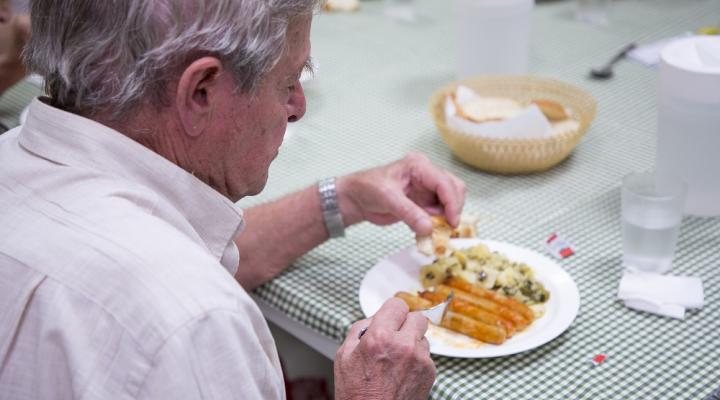 News
The Foundation is organising workshops so persons with dementia can keep cooking
Thu, 05/23/2019 - 15:50
The Catalunya La Pedrera Foundation, in conjunction with the ACE Foundation and the Alícia Foundation, has created the cookbook "Cooking Memory. Recipes so we don't lose it!"
The cookbook is targeted at people at the onset of dementia as a tool to help them keep cooking independently in their day-to-day lives with delicious, healthy, easy-to-prepare meals adapted to their needs.
In order to ensure the continuation of the project, on Wednesday 29 May at 10:30 am, the individuals with dementia who participate in the Programme to Boost and Stimulate Memory and Health (REMS) at the Montbau Social Space will participate in a workshop that will teach them how to use the cookbook correctly.
First, they will learn how to plan their daily meals with healthy, balanced foods; then they will see live cooking demonstrations and will have to make dishes in small groups following the instructions, with the assistance of cooks from the Alícia Foundation.
The next confirmed dates of the workshop are Thursday 6 June at the Granollers Social Space (from 11 am to 12:30 pm) and Wednesday 19 June in Lleida.
Throughout the year, there are plans to hold one workshop in each of the Foundation's 23 Social Spaces around Catalonia. In this way, all the participants in the Programme to Boost and Stimulate Memory and Health will learn how to use the cookbook and will be able to apply that knowledge in their daily lives.