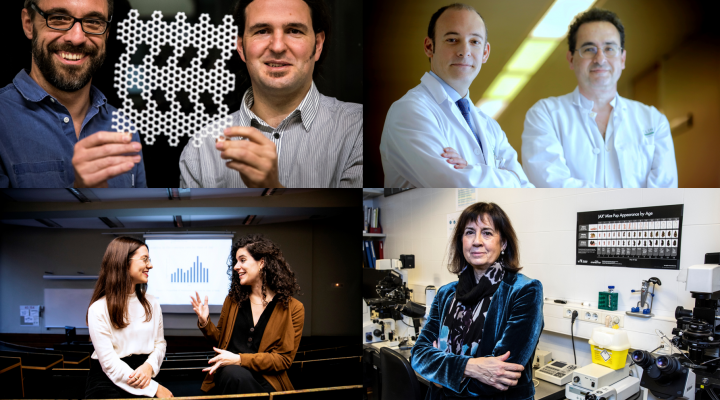 News
The Vanguardia Science Award is back
Mon, 01/28/2019 - 16:21
The 9th, anxiously-awaited edition of the Vanguardia Science Award is beginning. This award is the outcome of a partnership between the Grup Godó and the Foundation, and its goal is to promote scientific excellence.
This award, inspired by the example of Sciencemagazine, which names a 'Breakthrough of the Year' every December, honours and awards the most important scientific breakthrough of the year in Spain.
La Vanguardia readers may vote on the finalist studies that a prestigious scientific advisory committee has chosen among the research projects submitted.
This prize is yet another chance to participate in a world-class science dissemination programme which the Catalunya La Pedrera Foundation has developed in recent years by partnering with a series of projects aimed at promoting research in our country and the scientific education of youths.
The candidates in this year's edition and their studies are:
Aitor Mugarza and César Moreno
Catalan Institute of Nanoscience and Nanotechnology/ICREA
A graphene membrane with exceptional properties
Fàtima Bosch
Autonomous University of Barcelona 
A gene therapy for type-2 diabetes

Ana M. Costa-Ramón and Ana Rodríguez-González
Pompeu Fabra University 
Being born by cesarean affects newborns' health
Aleix Prat and Manel Juan
Hospital Clínic of Barcelona
A test for cancer immunotherapy
Frank Koppens and David Alcaraz
Institute of Photonic Studies/ICREA
Light confined to a single atom
David López-Rodríguez and Miguel Almunia
Banco de España / University College of Financial Studies
Limit 6 million: The threshold of physical evasion
Ignasi Ribas 
Institute of Space Sciences 
A strange planet near the solar system
José J. Lucas and Raúl Méndez
Center for Molecular Biology Severo Ochoa / Institute for Research in Biomedicine of Barcelona / ICREA
A key protein in the origin of autism