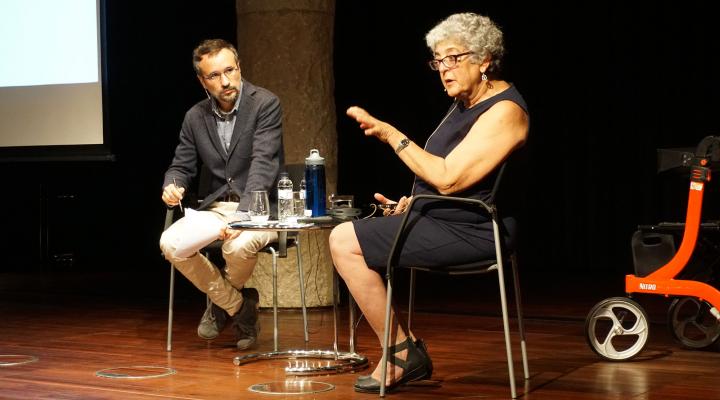 News
Award-winning scientist Joanne Chory at Afterwork Science
Mon, 10/21/2019 - 13:16
The Catalunya La Pedrera Foundation, in collaboration with the Centre for Research in Agricultural Genomics (CRAG), hosted Joanne Chory at La Pedrera, Chair and Director of the Salk Institute (San Diego, Califòrnia), who spoke with Michele Catanzaro, science communicator, within the framework of Afterwork Science.
The biologist and journalist held a debate about superplants, which are being developed at the Salk Institute to combat climate change thanks to their ability to significantly increase their natural ability to absorb and store CO2in the soil.
As a result of these studies, she was awarded the 2019 Princess of Asturias Prize for Technical & Scientific Research.
During her conference at Afterwork Science in La Pedrera, the American biologist explained that, according to the international scientific community, there are only 10 years left to fight climate change.
An excess of 18 gigatons of CO2 emissions are produced each year, mostly generated by human activity, but plants could help reduce their impact.
In order to help combat climate change, plants need to have bigger, deeper roots, which will absorb more CO2 and store it deeper in the soil. This will allow them to be more efficient, and release less CO2 into the atmosphere.
The research led by Dr. Chory has already produced plants with larger roots, and will soon be able to produce plants with deeper roots. With these ideal plants, it will be possible to reduce up to 8 Gigatons of CO2 in 10 years time (almost half of the current excess).
Another important aspect of this breakthrough, according to Joanne Chory, is that it will reduce the excess CO2 to an affordable price (estimated at about $10 per tonne of CO2) and, most importantly, will do it in a way that is scalable across the globe, easily and quickly.
Joanne Chory (Methuen, US, 19 March 1955) graduated from Oberlin College (Ohio) with a degree in Biology, and received a PhD in Microbiology from the University of Illinois in Urbana-Champaign in 1984. She completed her postdoctoral studies at Harvard, and in 1988 she joined the Salk Institute, where she has held a number of positions, including director of the Cell and Molecular Plant Biology Laboratory. Since 1997 she has been a research fellow at the Howard Hughes Medical Institute, and since 1999 she has also been an associate professor at the University of California in San Diego.
Her field of research is focused on the mechanisms that regulate plant function, from a molecular level to a cellular level, as well as their reactions to environmental stress conditions. To carry out her research she used a model organism, Arabidopsis thaliana, to discover certain important aspects related to the genes involved in functions such as light sensitivity, plant growth hormones and water stress response. Her contributions to the role of phytochrome, a plant protein sensitive to red and infrared light, and the gene regulation involved in photosynthesis, have been particularly well-received.