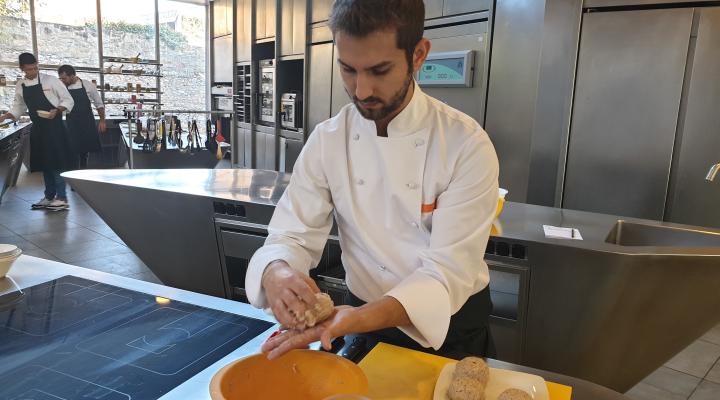 News
The "KetoAlícia" mix is unveiled at Afterwork Science at La Pedrera
Wed, 12/11/2019 - 20:05
Seeing the excitement of a child who can eat bread with chocolate again is one of the best rewards after almost 2 years of research by the Catalunya La Pedrera Foundation and the Alícia Foundation on the ketogenic diet applied to certain rare diseases. This research was presented this afternoon in a new Afterwork Science session at La Pedrera, and its peak expression is the innovative "KetoAlícia" mix and a website on the topic .
The ketogenic diet has become fashionable in recent years for a variety of reasons, such as for weight loss, although it is not actually recommended for this purpose and is only backed by scientific evidence for certain rare diseases such as GLUT-1 deficiency, PDCD or certain forms of epilepsy, where it has been proven that following this diet improves patients' quality of life.
We regularly eat carbohydrates in our everyday diets as our main source of calories: bread, pasta, rice, fruit, etc. However, the ketogenic diet suggests ingesting up to 90% of our calories in the form of fats, which means that it is primarily based on foods like olive oil, olives, cheese, nuts, etc. Because this diet is so far from the norm, some families end up quitting the treatment despite the benefits and improvements it can have for these diseases. For example, by following this diet, 1 out of every 4 patients will have fewer epileptic attacks.
The Alícia Foundation, which is in charge of the Catalunya La Pedrera Foundation'sfood efforts, has been scientifically working on this culinary innovation for almost two years, developing practical solutions to make this diet more pleasurable for children affected by these rare diseases and easier for their families to prepare.
For this reason, with the support of certain benchmark hospitals and associations of persons with these diseases, an innovative formula was created. It has been named the KetoAlícia: a mix of three simple ingredients (nuts or dehydrated coconut, Psyllium and flaxseed) which families can use at home practically and easily to make substitutes for the most common flour-based foods (bread, pizza crust, cake, crepes, pastries, etc.), which are usually rich in carbohydrates and therefore inappropriate for this kind of diet.
Afterwork Science was also used as the springboard to launch the new trilingual website (Catalan, Spanish and English) promoted by the Catalunya La Pedrera Foundation, which also reports on all the work conducted by the laboratories in Món Sant Benet. It is a useful, user-friendly tool which allows families of individuals with these diseases to gain easy access to recipes and information on how to apply the ketogenic diet in individuals with the diseases included in the study.
The session featured Natalia Egea, dietician in the maternal-infant ward at Hospital Sant Joan de Déu and an expert in the ketogenic diet; Dr Carme Fons, head of the paediatric neurology service in the maternal-infant ward at Hospital Sant Joan de Déu; and Alba Adot, dietician-nutritionist at the Alícia Foundation and coordinator of the project on the ketogenic diet developed by the Catalunya La Pedrera Foundation and the Alícia Foundation The event was moderated by Toni Massanés, director of the Alícia Foundation.
The activity was free of charge, and for each person attending, the Catalunya La Pedrera Foundation will make a €25 donation to TV3's La Marató, which is focuses on rare diseases this year.