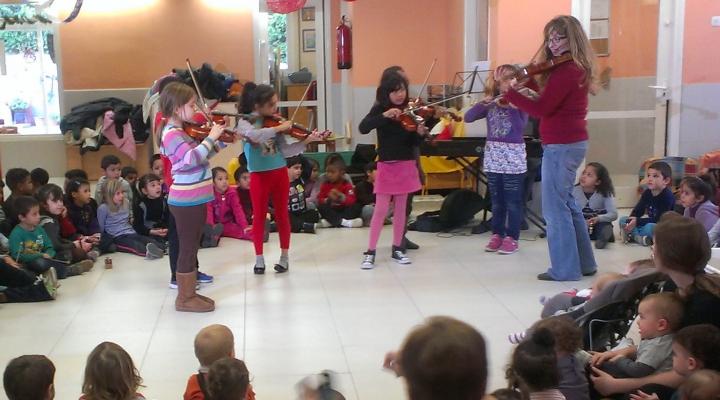 Mn. Jacint Verdaguer School + Municipal Conservatory of Barcelona
The school specialises  in music, and will participate in the tandem with the Municipal Conservatory of Barcelona.
Mossèn Jacint Verdaguer School defines itself as "Music and innovative methodologies in Poble-sec". The school started a  tandem with the Municipal Conservatory of  Barcelona (CMMB) during the 2011-2012 academic year.
During the implementation phase, an emphasis was placed working through  4 types of activities:
Multidisciplinary activities, which involve several school subjects at the same time.  These kinds of activities encourage multidisciplinary work, and are based on an idea that is approached from different fields in order to create a shared project. As a result of these activities, which take place during the 2nd and 3rd quarters of each year, a concert is held at the end of each quarter and a teaching guide is prepared.
The musical activities, led by an expert musician, involve several string workshops organised by the Jacint Verdaguer string orchestra and the Jacint Verdaguer choir.
Networking activities, which are specific activities aimed at establishing connections between the school and the Municipal Conservatory of Barcelona. They encourage knowledge sharing and the mutual enrichment of the two institutions and their members.
Training activities, which may be both implicit - arising from the collaboration between school teachers and CMMB specialists over three years - or explicit including specific courses for school teachers.