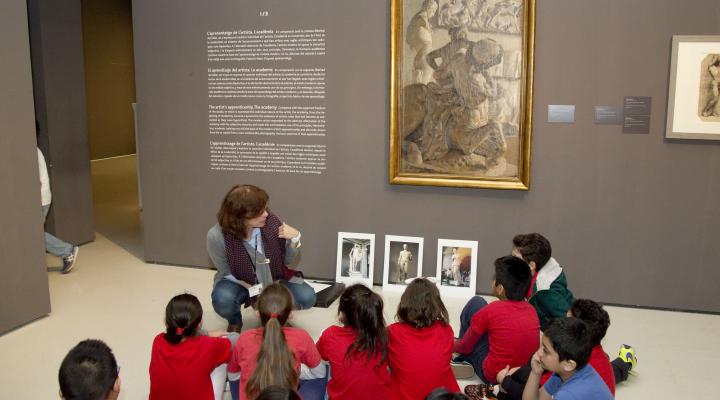 Miquel Bleach School + MNAC
The school specialises in art and art history, and will participate in the tandem with the Museu Nacional d'Art de Catalunya.
"Miquel Bleach, tandem school – Art & heritage – Escola VTS" is how this education centre defines itself. The school began its tandem arrangement with the Museu Nacional d'Art de Catalunya during the 2013-2014 academic year.
Art and art heritage are integrated as a multidisciplinary pillar during early childhood and primary education. With the aim of encouraging educational success, the foundation promotes a collaborative project for change that involves, on the one hand, discovering and using art in any learning process, while also being able to implement research and project-oriented methodologies in the classroom.
The Visual Thinking Strategies (VTS) method has played a significant role in this change. This method facilitates learning through the visual arts, while observing, discovering and building meaning through work.
The change had a foundation based on teacher training, with active participation from both professionals from the school and the Education Department at the Museu Nacional d'Art de Catalunya (MNAC), with support and advice from the Catalunya La Pedrera Foundation.
Miquel Bleach School was awarded with the 2015 City of Barcelona Award.
From the 2019-20 academic year Miquel Bleach School has been transformed into Institut Escola Arts school.