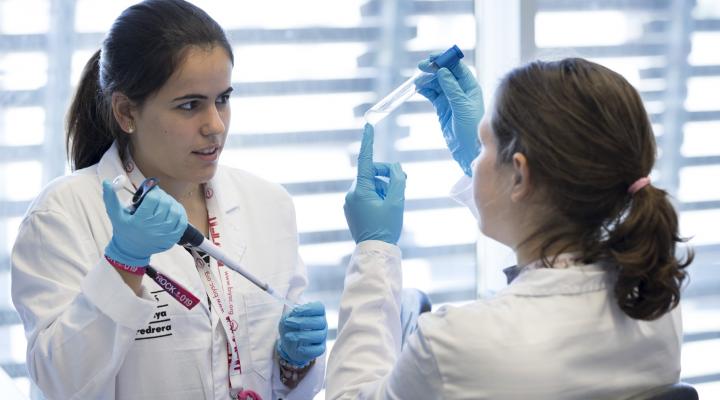 Science Academy
Science Academy is a training project of the Catalunya La Pedrera Foundation. Its aim is to stimulate scientific vocations among the youngest and provide knowledge in nature, territory or emotional training.
Science moves the world forward
and you are the future!
Science Academy
Science Academy is the new training proposal of the Catalunya La Pedrera Foundation with a wide variety of scientific programs to respond to the challenges of a new era. We work with excellence, rigor and passion to promote the critical spirit, curiosity, creativity, innovation and empowerment of thousands of girls, boys, young people and professionals in Catalonia and around the world.
Choose your program!
What is Science Academy?
It is a new initiative of the Catalunya La Pedrera Foundation that concentrates all the potential of knowledge and expertise of the institution in various fields, through training projects, scientific dissemination, and the promotion of scientific talent and vocations.
Science Academy offers quality training, based on the experience of the Catalunya La Pedrera Foundation in various areas of expertise acquired through years of work by teams with great capabilities in knowledge and education, science, territorial management, environment, culture, communication and social suport.
Scholarships
To ensure that everyone can access Science Academy programs, the Fundació Catalunya La Pedrera has a scholarship plan. 
FAQ's
How can I find out about all the programs in the Science Academy?
If you want to know about all the programs of the Science Academy project, you can find out in different ways. On the one hand, you can check our website, where you will find all the information you need. On the other hand, you can follow us on our social media or sign up for our newsletter. If you have more specific questions you can contact us at scienceacademy@fcatalunyalapedrera.com 
If I am a student of a course, can I participate in any of the other Science Academy programs?
Yes, there are courses that can be complemented with other programs. Participating in any program of the Foundation does not give you fewer opportunities to participate in another one. Those are independent with each other. You can check the compatibility in each of the programs.
I am an entity / research center / school, what possibilities for collaboration do I have?
We collaborate with different organizations. Most of the projects collaborate with different research centers at national and international level.
Furthermore, schools are very important for our projects because they can help us to find talented students to then promote their scientific and professional vocations.
For specific questions you can contact us at: scienceacademy@fcatalunyalapedrera.com 
What are the advantages of being part of the Science Academy Fellows community?
Being part of the Fellow community allows you to create a broad network that encourages research, learning and networking. It was created with the aim of connecting the different generations of participants in the science programs of Foundation Catalunya La Pedrera. To promote this, the Foundation has arranged meetings, conferences, training courses, informative conferences, hackathons, among other things.
Are there scholarships and grants to do the Science Academy programs?
You will find this information detailed in each program.
Will Science Academy help me with my professional future?
Yes! Being part of any Science Academy project will allow you, on the one hand, to get to know first-person research centers and top researchers. On the other hand, participating in a project like this is a differentiating fact that will complete your Curriculum Vitae and give you skills to face the professional world.
Are the Science Academy programs in English?
Most of the programs are in Catalan and English. Even so, there are international programs like BIYSC, which is entirely in English. In any case, you can check the language of the sessions in each program.
What steps do you take for Covid-19?
The activities of the Catalunya La Pedrera Foundation are adapted to the context of a health emergency. The safety and health of the people involved in our programs (participants and staff) is a priority for Science Academy.
All programs ensure the well-being and maximum safety of the activities that take place there, regardless of format and location.
In all cases, the measures proposed by the health authorities are strictly followed and we have specific safety and hygiene protocols, which will be informed to the people involved in advance.
If you need more information do not hesitate to contact us via email scienceacademy@fcatalunyalapedrera.com
Discover all the programs of Science Academy