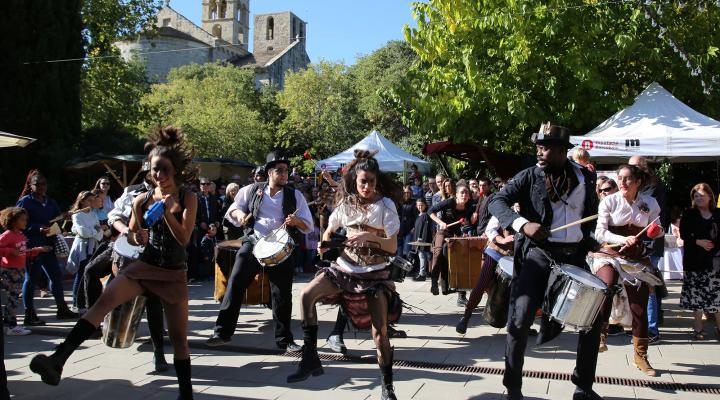 News
Good weather and packed activities: Success of a new edition of The Flavours of the Earth at Món Sant Benet
Mon, 11/04/2019 - 13:19
Full stalls and activities at an edition which featured the wilder side of autumn, with activities around the plants and wild plants that grow on the sides of trails.
The artisan camp Creatardor and the "Eat in the Square" cooking workshops delighted the visiting families. Children had fun building an insect hotel or making their own musical instrument with reeds and other natural materials. They were also able to learn food conservation techniques in the workshop "Oils with Scents and Flavours" and learn how an autumn nougat is made with sweet potatoes and chestnuts.
The musical touch came on Saturday with the Ora Pro Nobis concert by Tarta Relena, in conjunction with Fira Mediterrània. And for those who like to participate, the show "Let's make music with Les Canyetes de la Foradada" concluded the first day of Creatardor and encouraged visitors to play the instruments they had made themselves in a small improvised concert. The soundtrack Sunday was provided by the percussion group Sound de Secà. 
In the market in the square, which had almost 50 stalls, family workshops were held, such as learning how to make herb bread, and families were able to enjoy the usual displays of the artisan trades.
This year's edition particularly promoted the tasting and showcooking area, allowing the sybarites among us to discover the different flavours of artisan beer, take a taste tour of traditional recipes with wild mushrooms and chestnuts as the main ingredients, and learn about roadside plants with "Cooking with forgotten plants" by the Eixarcolant group, among other activities. 
Likewise, the autumn activities and experiences gave visitors the chance to take special tours of the monastery and discover, for example, which herbs, ointments and syrups were used to care for the monks, or what the monastery infirmary used to be like. Visitors were also able to take an ethnobotanical tour to learn about and sample the roadside plants that grow around Món Sant Benet.
The range of activities was rounded out by an interesting range of dining options which enabled visitors to finish off their evening properly.