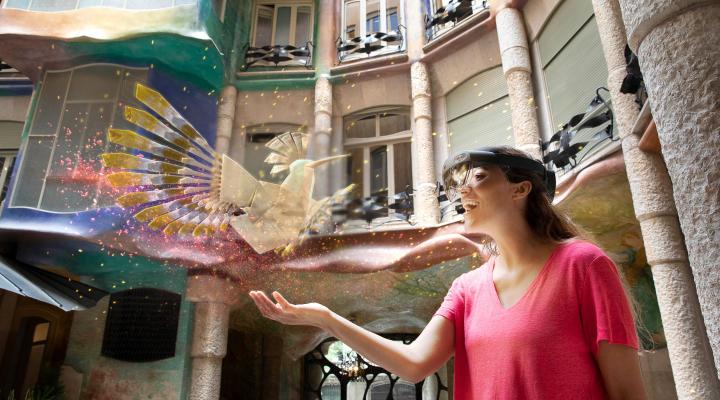 News
Fundació Catalunya La Pedrera presents its first Mixed Reality tour in Spain
Wed, 06/29/2022 - 15:48
Fundació Catalunya La Pedrera and Laie – Culture Experience today presented the new La Pedrera Magical Vision experience, that lets you discover the secrets of La Pedrera-Casa Milà through a combination of holographic technology and reality. This new experience is unique in Spain, offering a new vision of the building and Gaudí's creations through Mixed Reality (MR).
The aim of this tour is to bring Gaudí's universe closer to visitors as never before. It incorporates the most innovative technology with the Microsoft HoloLens 2 device, which visitors can use to discover the history and architecture of Gaudí's building in an immersive and multisensory manner.
The Pedrera Magical Vision tour takes place in a new space in the building, on the La Pedrera mezzanine floor, which is open to the public for the first time. This circular space surrounds the Patio de las Mariposas and follows the architectural lines of Casa Milà. During the experience you'll discover who owned the building, what was Gaudí's inspiration, how he built it, and stories from people who have lived there over the years.
During the presentation of this new experience, Marta Lacambra, CEO of the Fundació Catalunya La Pedrera, explained that "our goal as a foundation is to build experiences that offer new perspectives on art, beauty, and heritage". Meanwhile, Laie CEO Montse Moragas added " we have worked with the team of Catalunya La Pedrera in order to achieve an experience with quality but also with the magic and emotion that we believe are essential in an experience like the one we present."
Technology at the service of culture
La Pedrera Magical Vision was created with the intention of bringing a new way of experiencing culture to visitors. This immersive, interactive, and sensory tour was developed in collaboration with Glassworks, an international post-production studio, specialising in visual effects and digital animation that has collaborated with companies such as Apple and Netflix and with audio-visual projects such as "The Crown" series or the movie "A monster calls" to its credit.
This is the first time that this Microsoft technology, the HoloLens 2 device, has been used in a cultural context in Spain, not to mention the first Gaudí building to make use of it. The president of Microsoft Spain, Alberto Granados, explained that "Microsoft is delighted with this initiative, as it is a clear and resounding example of how technology can bring people closer together and solve challenges in the most uneven environments. We have seen HoloLens used in healthcare, design, manufacturing, and machinery maintenance. Interacting with the holograms and content in this unique space in La Pedrera will most certainly ensure that we never forget Gaudí's influence on art".
This technology is based on the concept known as Mixed Reality. Holograms are combined with actual physical space, and appear in the various rooms throughout the tour, where the visitor learns about the building's inspiration and history through these exclusive visual methods. The visitor is not simply a spectator, they are a participant in their surroundings, interacting with La Pedrera's history.
Take part in the experience by visiting La Pedrera
This new programme at La Pedrera is part of a series of innovations on offer this summer for a more experiential trip to this unique Gaudí building. In addition to the La Pedrera Magical Vision launch, a new audio and video guide system has also been developed, that improves upon and modernises the overall experience. The new devices bring maximum personalisation based on visitors' interests, who can choose what kind of content they are provided with. La Pedrera Photo Experience was also launched, which is a new photography and video service in the building, where souvenir photos or videos can be taken against amazing backgrounds: such as taking a trip through time, with fascinating vignettes from ancient times, or against a rooftop sunset.