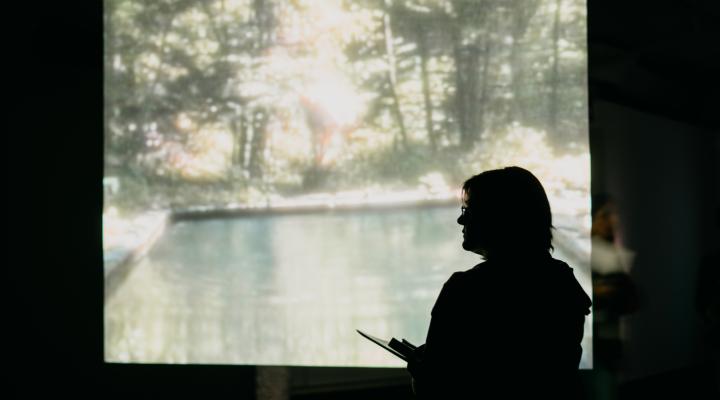 News
Bill Viola is now at La Pedrera
Thu, 10/03/2019 - 13:06
The exhibition 'Bill Viola. Mirrors of the Unseen' can now be seen and experienced at La Pedrera. Bill Viola (New York, 1951), considered a pioneer in the development of video art, is one of the most internationally prominent artists. His work, which has evolved parallel to video technology, explores the human condition by addressing universal themes like birth, death, love, pain and redemption.
Kira Perov, the director of Bill Viola's studio and co-curator of the exhibition, apologised for the artist's absence at the exhibition opening held at La Pedrera today and stated that  "the works shown in this space reveal the themes that Bill has explored for much of his creative life. In this exhibition, we can see how the image in motion expands notions of the fragility and fleetingness of our life on earth, which represents the human condition in different ways." 

Today, the Catalunya La Pedrera Foundation presented this artist's unique point of view through around 40 works, 20 of which are on display in Casa Milà and the remainder at cultural institutions throughout the city and country. The exhibition at La Pedrera is an overview of the artist's career.  Marta Lacambra, director general of the Foundation, noted that this exhibition is "the first anthology of Bill Viola's work in Barcelona, and it's yet another example of the Catalunya La Pedrera Foundation's steadfast commitment to disseminate the best in contemporary creation".

Bill Viola Route around Catalonia 
At the same time as the launch of the Bill Viola show at La Pedrera, and with the goal of expanding the exhibition's reach around Catalonia, a network of partner cultural institutions has been created where some of the video artist's works will be presented, both in the city of Barcelona - at the Palau de la Música Catalana and the Gran Teatre del Liceu - and at other places in the country: Bòlit, Contemporary Art Centre of Girona, the Museum of Montserrat, the Episcopal Museum of Vic and PLANTA Sorigué Foundation of Lleida. Llucià Homs, co-curator of the exhibition, stressed that "it is important and enriching that many cultural hubs around the land  have joined forces to spread the works of Bill Viola throughout the entire country". And she added that 'Bill Viola. Mirrors of the Unseen' "is strongly rooted in Barcelona; it is designed for and from Barcelona. There are many reflections of Catalan artists, theologians and philosophers linking Bill Viola's works with the city."